You chose saxophone. This is a Hartrick Old Stamp. This symbol is found in Hartrick Old Stamps I, II, and III (aka OS1, OS2, OS3). These stamps were in use from 1940-1957.

If you would like to work to a more detailed level then there are further distinct features of the Arabic portion of the stamp as well as the English portion which you will look at.

Click on the image which most closely matches your cymbal.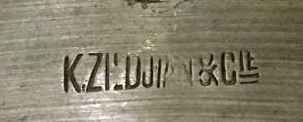 Start over with the K Zildjian Istanbul Key

or back to the introduction page
text stabilized 12 Mar 2017 4:05 PM
last updated 14 Mar 2017 5:53 PM

This work is licensed under a Creative Commons Attribution-ShareAlike 4.0 International License.