According to Pinksterboer this model was introduced in 1991 (p147), although Zildjian themselves say 1992. The PADLR spans the IAK period and the laser serial K period.
Diameters, Production Years, Weights
18" 1992-2001 weights: 1560g
20" 1992-20xx weights: 1978g, 2001g, 2020g, 2136g
22" 1992-2001 weights: 2432g, 2460g


Image: PADLR top (pre laser stamp)
This cymbal shows the more sparse irregular hammering of the IAK era, and the fairly even more coarse tonal groove lathing. The K on the top doesn't have the little ®
Image: PADLR bottom (pre laser stamp)
The bottom shows the same hammering and lathing style as the top. The Zildjian ink logo has a ® which started in 1992.
Image: PADLR laser stamp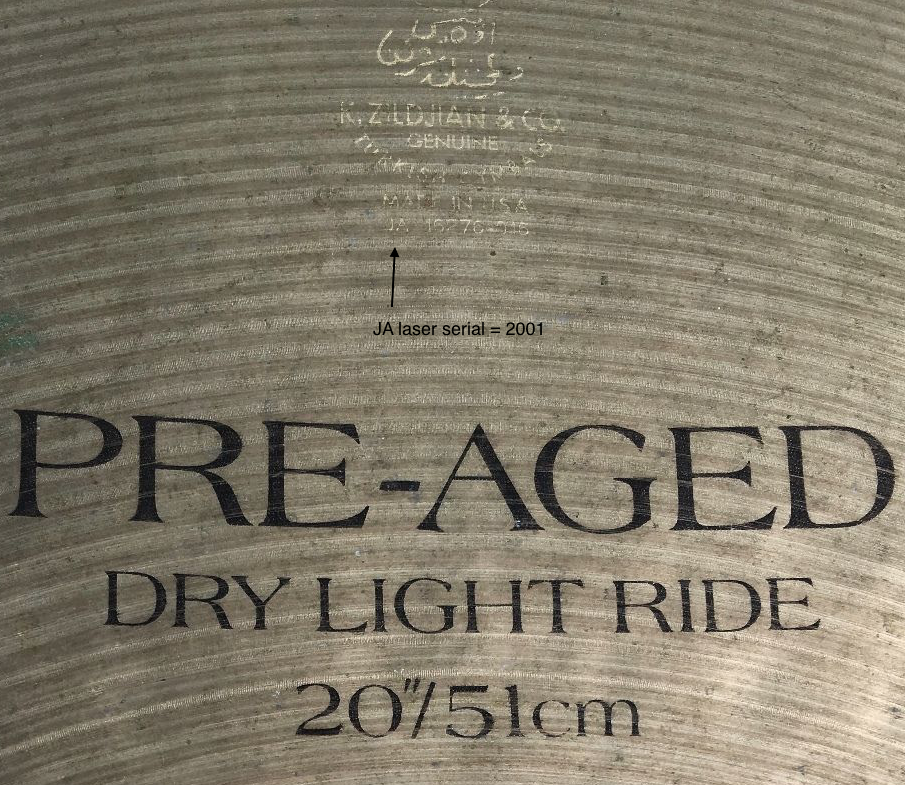 This laser stamped 20" example from 2001 has similar hammering and lathing to the pre laser version. The final production year for the 20" PADLR is not known, but it seems like it was produced for longer than the 18" and the 22" which were dropped in 2001.
In close up you can see that the font used for the model ink is a serif version which is different from other models.
or back to the introduction page
text stabilized 26 Sep 2017 12:35 PM
text last updated 26 Sep 2017 6:55 PM

This work is licensed under a Creative Commons Attribution-ShareAlike 4.0 International License.